Original Article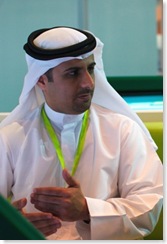 Yahsat's CEO Al Zaabi
believes the over-subscribed
financing facility reinforces
the company's business model.
Yahsat, UAE's nationally-owned satellite operator and subsidiary of Mubadala Development Company, has secured commitments of US$1.2 billion in financing to fund the Middle East's first hybrid satellite communications system.
The satellite operator announced in May its intention to raise public private partnership-style project financing for its satellites, the first of which, Yahsat 1A, is currently being built and will launch in Q410. Yahsat 1B is expected to follow, launching in the first half of 2011.
"Yahsat received commitments from leading international and regional banks in excess of US$1.6 billion for the US$1.2 billion financing, which is a testament to the strength of our sponsorship acknowledging our business model" Jassem Mohamed Al Zaabi, CEO of Yahsat stated.
The 14-year non-recourse financing is divided into a US$1.014 billion term loan, US$100 million in standby facilities and US$80 million for a debt service reserve letter of credit.
Fourteen banks will participate in the transaction and Yahsat's chief financial officer Samer Khalife added that the positive funding response was an important endorsement given the challenging global financial environment.
Yahsat has already generated business through recent long-term satellite capacity leases with the UAE Armed Forces and the American company Emerging Markets Communications, operator of one of the largest teleport facilities in the world.
Yahsat's owner, Mubadala, is a public joint stock company that manages a multibillion dollar portfolio of local, regional and international investments. Its sole shareholder is the government of Abu Dhabi.